I segreti di Twin Peaks
Stagione 1

Dual Language ITA - ENG
Sub ITA - ENG
For more information
www.tntvillage.scambioetico.org
www.imdb.com/title/tt0098936/

.: Dati Serie :.
Nazione
: Stati Uniti d'America
Anno
: 1990-1991
Genere
: police procedural, commedia, romantico
Stagioni
: 2
Episodi
: 30
Durata
: 47 min, 94 min (episodio pilota ed episodio 02x01)
Lingua
: ITA - ENG
Ideatore
: David Lynch e Mark Frost
Cast
:
• Kyle MacLachlan:
agente Speciale Dale Cooper
• Michael Ontkean:
sceriffo Harry S. Truman
• Mädchen Amick:
Shelley Johnson
• Dana Ashbrook:
Bobby Briggs
• Richard Beymer:
Benjamin Horne
• Lara Flynn Boyle:
Donna Hayward
• Sherilyn Fenn:
Audrey Horne
• Warren Frost:
dr. Will Hayward
• Peggy Lipton:
Norma Blackburn-Jennings
• James Marshall:
James Hurley
• Everett McGill:
"Big" Ed Hurley
• Jack Nance:
Pete Martell
• Kimmy Robertson:
Lucy Moran
• Ray Wise:
Leland Palmer
• Joan Chen:
Jocelyn Packard
• Piper Laurie:
Catherine Packard-Martell
• Eric Da Re:
Leo Johnson
• Harry Goaz:
agente Andy Brennan
• Michael Horse:
agente Tommy "Hawk" Hill
• Sheryl Lee:
Laura Palmer / Maddy Ferguson
• Russ Tamblyn:
dr. Lawrence Jacoby
• Kenneth Welsh:
Windom Earle
The body of a young girl (Laura Palmer) is washed up on a beach near the small Washington state town of Twin Peaks. FBI Special Agent Dale Cooper is called in to investigate her strange demise only to uncover a web of mystery that ultimately leads him deep into the heart of the surrounding woodland and his very own soul.

I segreti di Twin Peaks (Twin Peaks) è una serie televisiva statunitense ideata da David Lynch e Mark Frost. Venne trasmessa per la prima volta in due stagioni dal canale televisivo ABC, dall'8 aprile 1990 al 10 giugno 1991.

La serie è ambientata nella fittizia cittadina montana di Twin Peaks situata nello Stato di Washington, a cinque miglia dal confine tra Stati Uniti e Canada. L'apparente tranquillità di questo frammento di America viene turbata dal ritrovamento del cadavere di Laura Palmer, figlia unica dell'avvocato Leland, nonché una delle ragazze più popolari della città. Le indagini affidate all'agente speciale Dale Cooper permettono di far affiorare il lato oscuro e nascosto del luogo e dei suoi abitanti.

Durante il periodo di messa in onda, grazie alla sua singolarità e al distacco stilistico rispetto ai programmi del palinsesto televisivo dell'epoca, la serie divenne presto oggetto di culto, reclutando una vasta schiera di fan. A distanza di due decenni viene considerata come una delle più importanti ed influenti della storia della fiction televisiva.
.: Screenshot :.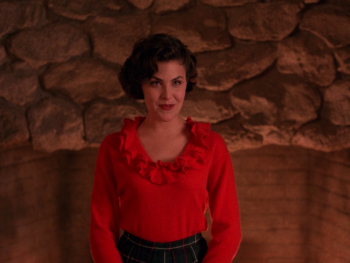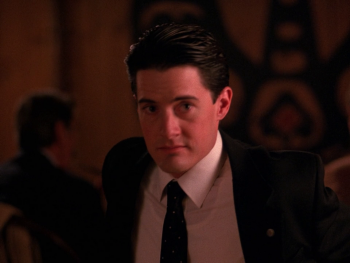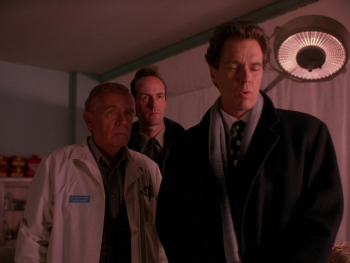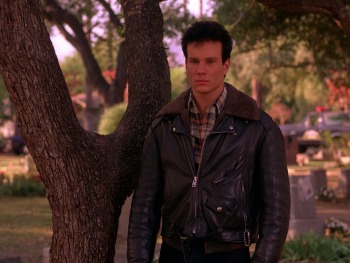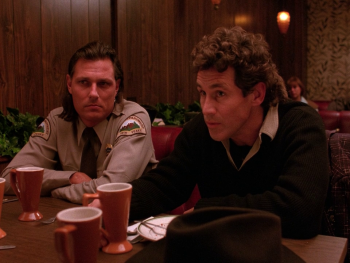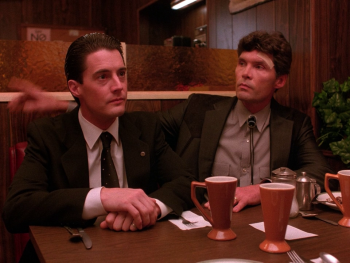 .: Caratteristiche Tecniche :.
[ Info sul file ]
Nome: Twin.Peaks.S01E01.Pilot.720p.Bluray.AC3.ITA.DTS.ENG.Subs.x264-HDitaly.mkv
Data: Wed, 13 Aug 2014 19:49:15 +0200
Dimensione: 4,692,178,022 bytes (4474.809668 MiB)
[ Magic ]
Tipo file: data
[ Info generiche ]
Durata: 01:34:04 (5643.541 s)
Contenitore: matroska
Production date: Wed, 13 Aug 2014 19:45:52 +0200
Totale tracce: 5
Traccia n. 1: video (V_MPEG4/ISO/AVC) [S01E01.Pilot-HDitaly] {ita}
Traccia n. 2: audio (A_AC3) [AC3 Italian] {ita}
Traccia n. 3: audio (A_DTS) [DTS English] {eng}
Traccia n. 4: subtitle (S_VOBSUB)
{ita}
Traccia n. 5: subtitle (S_VOBSUB) {eng}
Muxing library: libebml v1.3.0 + libmatroska v1.4.1
Writing application: mkvmerge v7.1.0 ('Good Love') 64bit built on Jul 27 2014 13:06:55

[ Dati rilevanti ]

Risoluzione: 960 x 720
Larghezza: multipla di 32
Altezza: multipla di 16
DRF medio: 21.725978
Deviazione standard: 2.718699
Media pesata dev. std.: 2.667104

[ x264 log ]

frame I: 963 ( 0.712 %)
frame B: 107279 ( 79.288 %) ################
frame P: 27061 ( 20.000 %) ####
frame I avg QP: 18.19
frame B avg QP: 22.12
frame P avg QP: 20.51
Avg QP: 21.770024

[ Traccia video ]

Codec ID: V_MPEG4/ISO/AVC
Risoluzione: 960 x 720
Frame aspect ratio: 4:3 = 1.333333
Pixel aspect ratio: 1:1 = 1
Display aspect ratio: 4:3 = 1.333333
Framerate: 23.976024 fps
Dimensione stream: 3,485,655,321 bytes (3324.179955 MiB)
Durata: 01:34:03 (5643.26258 s)
Bitrate (bs): 4941.333524 kbps
Qf: 0.29817

[ Traccia audio nr. 1 ]

Codec ID: A_AC3
Freq. campionamento: 48000 Hz
Canali: 2
Dimensione stream: 135,443,712 bytes (129.169189 MiB)
Tipo di bitstream (bs): AC3
Frames (bs): 176,359
Durata: 01:34:03 (5643.488 s)
Chunk-aligned (bs): Sì
Bitrate (bs): 192 kbps CBR
Freq. campionamento (bs): 48000 Hz
Modo (bs): stereo

[ Traccia audio nr. 2 ]

Codec ID: A_DTS
Freq. campionamento: 48000 Hz
Canali: 6
Dimensione stream: 1,064,512,984 bytes (1015.198692 MiB)
Tipo di bitstream (bs): DTS
Frames (bs): 529,082
Durata: 01:34:04 (5643.541333 s)
Chunk-aligned (bs): Sì
Bitrate (bs): 1536 kbps CBR
Freq. campionamento (bs): 48000 Hz
Modo (bs): C + L + R+ SL+SR

[ Bitstream video ]

Tipo di bitstream: MPEG-4 Part 10
User data: x264 | core 142 r2431 ac76440 | H.264/MPEG-4 AVC codec
User data: Copyleft 2003-2014 | http://www.videolan.org/x264.html | cabac=1
User data: ref=4 | deblock=1:-2:-2 | analyse=0x3:0x133 | me=umh | subme=9
User data: psy=1 | psy_rd=1.00:0.25 | mixed_ref=1 | me_range=32 | chroma_me=1
User data: trellis=2 | 8x8dct=1 | cqm=0 | deadzone=21,11 | fast_pskip=0
User data: chroma_qp_offset=-4 | threads=12 | lookahead_threads=1
User data: sliced_threads=0 | nr=0 | decimate=1 | interlaced=0
User data: bluray_compat=0 | constrained_intra=0 | bframes=5 | b_pyramid=2
User data: b_adapt=2 | b_bias=0 | direct=3 | weightb=1 | open_gop=0 | weightp=2
User data: keyint=240 | keyint_min=24 | scenecut=40 | intra_refresh=0
User data: rc_lookahead=60 | rc=2pass | mbtree=1 | bitrate=4942 | ratetol=1.0
User data: qcomp=0.60 | qpmin=0 | qpmax=69 | qpstep=4 | cplxblur=20.0
User data: qblur=0.5 | vbv_maxrate=50000 | vbv_bufsize=50000 | nal_hrd=none
User data: filler=0 | ip_ratio=1.40 | aq=1:1.00
SPS id: 0
Profile: [email protected]
Num ref frames: 4
Aspect ratio: Square pixels
Chroma format: YUV 4:2:0
PPS id: 0 (SPS: 0)
Tipo di codifica entropica: CABAC
Weighted prediction: P slices - explicit weighted prediction
Weighted bipred idc: B slices - implicit weighted prediction
8x8dct: Sì
Totale frames: 135,303
Drop/delay frames: 0
Frames corrotti: 0

P-slices: 27061 ( 20.000 %) ####
B-slices: 107279 ( 79.288 %) ################
I-slices: 963 ( 0.712 %)
SP-slices: 0 ( 0.000 %)
SI-slices: 0 ( 0.000 %)

[ Analisi DRF ]

DRF nedio: 21.725978
deviazione standard: 2.718699
max DRF: 32

DRF=1: 2 ( 0.001 %)
DRF=2: 11 ( 0.008 %)
DRF=3: 2 ( 0.001 %)
DRF=4: 43 ( 0.032 %)
DRF=5: 10 ( 0.007 %)
DRF=6: 8 ( 0.006 %)
DRF=7: 6 ( 0.004 %)
DRF=8: 47 ( 0.035 %)
DRF=9: 83 ( 0.061 %)
DRF=10: 168 ( 0.124 %)
DRF=11: 67 ( 0.050 %)
DRF=12: 40 ( 0.030 %)
DRF=13: 79 ( 0.058 %)
DRF=14: 111 ( 0.082 %)
DRF=15: 257 ( 0.190 %)
DRF=16: 788 ( 0.582 %)
DRF=17: 2409 ( 1.780 %)
DRF=18: 5377 ( 3.974 %) #
DRF=19: 12062 ( 8.915 %) ##
DRF=20: 21712 ( 16.047 %) ###
DRF=21: 27369 ( 20.228 %) ####
DRF=22: 23356 ( 17.262 %) ###
DRF=23: 13734 ( 10.151 %) ##
DRF=24: 9133 ( 6.750 %) #
DRF=25: 5142 ( 3.800 %) #
DRF=26: 5035 ( 3.721 %) #
DRF=27: 2733 ( 2.020 %)
DRF=28: 2993 ( 2.212 %)
DRF=29: 1313 ( 0.970 %)
DRF=30: 1086 ( 0.803 %)
DRF=31: 116 ( 0.086 %)
DRF=32: 2 ( 0.001 %)
DRF>32: 0 ( 0.000 %)

P-slices DRF medio: 20.90078
P-slices deviazione std.: 2.331452
P-slices max DRF: 32

B-slices DRF medio: 21.96195
B-slices deviazione std.: 2.754419
B-slices max DRF: 32

I-slices DRF medio: 18.627207
I-slices deviazione std.: 2.37221
I-slices max DRF: 27

[ Conformità al profilo ]

Profilo selezionato: MTK PAL 6000
Risoluzione: 960 x 720 > 720 x 576
Framerate: 23.976024 25
Buffer underflow: 00:00:05 (frame 113)
Buffer underflow: 00:01:55 (frame 2752)
Buffer underflow: 00:02:11 (frame 3130)
Buffer underflow: 00:02:14 (frame 3207)
Buffer underflow: 00:02:17 (frame 3292)
Buffer underflow: 00:02:20 (frame 3355)
Buffer underflow: 00:02:22 (frame 3410)
Buffer underflow: 00:02:24 (frame 3442)
Buffer underflow: 00:02:24 (frame 3464)
Buffer underflow: 00:02:25 (frame 3483)
Buffer underflow: 00:02:26 (frame 3502)
Buffer underflow: 00:02:27 (frame 3519)
Buffer underflow: 00:02:27 (frame 3532)
Buffer underflow: 00:02:28 (frame 3549)
Buffer underflow: 00:02:29 (frame 3567)
Buffer underflow: 00:02:30 (frame 3585)
Buffer underflow: 00:02:30 (frame 3601)
Buffer underflow: 00:02:31 (frame 3617)
Buffer underflow: 00:02:31 (frame 3632)
Buffer underflow: 00:02:32 (frame 3648)
Errore: Troppe violazioni

[ Edition entry ]

UID: 1869383927714074512
Nascosto: No
Selezionato di default: No
Playlist: No
Capitoli:
00:00:00,000-00:15:30,513: 00:00:00.000 {eng}
00:15:30,513-00:27:31,149: 00:15:30.513 {eng}
00:27:31,149-00:44:14,527: 00:27:31.149 {eng}
00:44:14,527-00:52:44,286: 00:44:14.527 {eng}
00:52:44,286-01:01:42,991: 00:52:44.286 {eng}
01:01:42,991-01:09:13,358: 01:01:42.991 {eng}
01:09:13,358-01:20:28,782: 01:09:13.358 {eng}
01:20:28,782-01:33:13,630: 01:20:28.782 {eng}
01:33:13,630-01:34:03,541: 01:33:13.630 {eng}

Rapporto creato da AVInaptic (18-12-2011) in data 14-08-2014 14:59:32


.: NOTA :.

[Ho aggiunto anche l'episodio pilota in versione internazionale.
Consiglio di vederlo al termine in quanto autoconclusivo (nel caso in cui la serie non avesse avuto successo, eliminando le puntate successive a quella di apertura).
Sottolineo che i 20' in più rispetto al Pilot originale non sono stati doppiati ma solo sottotitolati in italiano